Why choose Askews Candles?

100% British beeswax
Beeswax has the longest and brightest burn of any candle, while staying sustainable

All natural
Completely paraben free, beeswax won't release any soot or toxins into the air while it burns

Great burn
Beeswax boasts huge burn times and a beautiful golden quality of light
Why beeswax?
Beeswax candles give you a cosy and warm glow because the bees make such energy dense wax. This also means huge burn times of over 100 hours on some of our candles!
The burn is incredibly clean. There is nothing but beeswax and natural wicks in our candles! No parabens are released on burning, unlike paraffin based candles.
Beeswax is completely sustainable and by supporting the bees, you are supporting a healthy ecosystem and environment, something that is vital for our future.
Candlemaking, an ancient tradition
Beeswax has had a dynamic and rich history.  Used through the ages from anything from sealant to dental fillings.
Records show that the use of beeswax for candles goes back thousands of years. What is now part of tradition and enjoyment was once a necessity for light at night.
Used by monks to see as they scribed theological scripts, by miners to see in the dark, by sailors and by gaolers, the list goes on.
The oldest beeswax candle found still intact was discovered in modern day Germany and is thought to date back to the 6th century AD. However, the recorded use of beeswax goes back much further.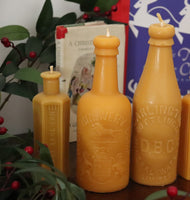 Beeswax was used by the ancient Egyptians for candles and for sealing. It was one of the prized substances found in the rediscovered royal tombs. It has also been found in the remains of Viking ships and in the ruins of ancient Rome. Tallow was also used in candles by the Romans, though they also used beeswax for candles, which were superior in that they have a smokeless and cleaner burn.