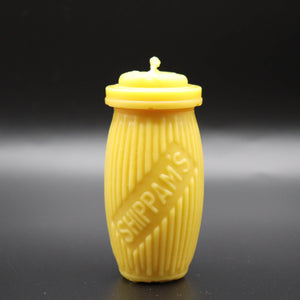 A bottle with lots of history, Shippams have been operating since 1750, with this bottle dating from the early 20th Century.
Shippams originally sold meat and dairy products and they even sold turtle soup at one point! But this jar was more likely to contain meat or the pastes they are well known for. 
Hand poured in the UK using 100% British beeswax, with a burn time up to 20 hours.
Amazing burn times: 20 hours of golden bright flame
Weight: 123g

Height: -

Width: -
Beeswax has such a long burn time, while staying clean, natural and bright. It is also sustainable and supporting the bees means supporting a sustainable and healthy environment! That's why we love it, and hope you do too! You can learn more about beeswax here.
Free shipping in the UK on all orders.