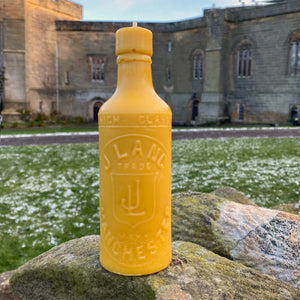 We don't know much about this bottle from Manchester, but we do know it contained mineral water, a common bottled drink from around the end of the 19th century.
Hand poured in the UK using 100% British beeswax, with a burn time up to 70 hours.
Amazing burn times: 70 hours of golden bright flame
Weight: 420g

Height: -

Width: -
Beeswax has such a long burn time, while staying clean, natural and bright. It is also sustainable and supporting the bees means supporting a sustainable and healthy environment! That's why we love it, and hope you do too! You can learn more about beeswax here.
Free shipping in the UK on all orders.